Blog
---
Happy New Year!!!!
Out with the old in with the new, it's 2023!!! It's that time of year that we make promises to ourselves about how you're going to do things better this year. How many of you make New Year's Resolutions? The top resolutions in America are: lose weight, exercise more, get organized, learn a new skill or hobby, quit smoking, spend less money, and
 live life to the fullest. Which one of these do you choose? For me, it is to live life to the fullest. Each year, as I get older, I have a tendency to look at life a little differently. I realize that each day is a gift and we need to make the most of it. In other words, try and create a new memory each day that your feet hit the ground. So what better way to do this than to go fishing!!
 As a charter captain, our job is to make memories on the water. Yes we are hired to catch fish or scallops but basically we are in the entertainment business. The more fun and memories we can create for our clients the better. We can always tell if we did a good job by having returning customers. This is also true by the returning customers that come back year after year to River Inn Marina. Rob and Barb, the owners of River Inn Marina have made several changes to the Marina. Just this week, they have created a new Captains board, displaying each Captain and their contact information. Out with the old in with the new!!
Fishing has been as crazy as the weather. One day you limit out by noon, the next day the same spot and the same lure doesn't get a bit. Kinda like Florida weather one day you have on 2 jackets over a hoodie, next day you have shorts and t-shirt on. Fishing has been hot in the river since the cold front that came through on Christmas. Slow sinking lures have been working the best. I prefer the Mirro lure TT 26, it is a red and silver slow sinking lure that allows you to fish with a slow retrieve. Also, many people are using a ¼ ounce jig head with a gulp. Preferred colors are pink shine or white. 
Happy New Year and best wishes to all my fishing buddies out there!!!!
Captain Rick Julius
Captain "J" Charters
352-745-0968
---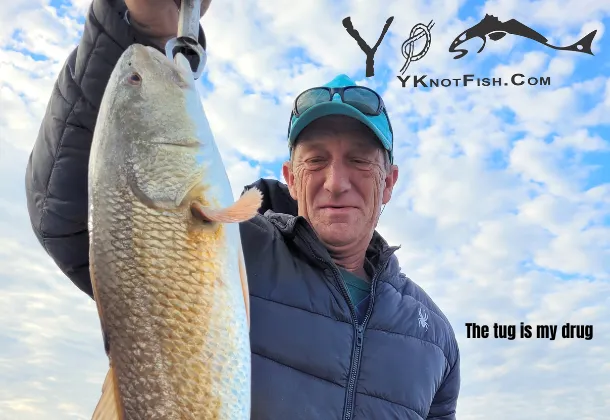 "Cast Away"
As a Charter Captain I am blessed with opportunities to fish with anglers of varying skill levels. Some have been fishing their entire lifetime, while others have never fished. And I reiterate the word never. This is fine and I as a Captain welcome everyone who wants to fish. I get great pleasure in being a part of someone's very first Redfish, a first Trout, or sometimes even someone's very first fish. It is an honor and a privilege to participate in these moments.
With that being said there are things that can and things that SHOULD happen to make everyone's day on the water more successful, less stressful and more fun.  After all, getting away and having an exciting but relaxing day on the water is what fishing is all about?!?! There is one basic and fundamental skill that must exist no matter what. And that is the ability to cast!
Casting a reel and rod is THE skillset that ALL successful fishers must, MUST possess. Casting is fundamental in angling. It is a skill that to be learned, it must be practiced. Think about this little factoid. On an average 8-hour fishing day a person might make between 300 and 500 casts.  
There is a simple way for most anyone to prepare. BEFORE getting on a boat, your boat, my boat, someone else's boat to go fishing, at least possess the most basic skill of all. CASTING!!! Your experience, your ENJOYMENT and your memories will be much greater if you can CAST!
Now, as a Captain I have had many, dozens, maybe even hundreds of people that simply could not cast. Some had never held a fishing rod in their hands. Some had fished with others relying on their partner to cast for them. Many have told me they simply could not do it. So, someone on the boat is charged with casting for that person and themselves. This makes absolutely ZERO sense! NONE.
Most times, after a day on the water with me that person becomes a "caster."  I try not to accept their saying that they simply "cannot cast." In many cases, barring physical handicap they may simply just refuse to learn.
The way I learned, and the way many that I have talked to have learned is to practice at home. If you are going to spend time on a boat, doesn't it make sense to possess the most basic of skills to improve your success and your enjoyment. Well, doesn't it? Buy, borrow or steal (just kidding) a Spinning Rod and Reel. I suggest putting a weighted popping cork on the line with no leader or hook. Our Marina and all tackle shops sell them.
Get with someone who knows how to cast and get them to show you. Your Wife, your Husband, your long-lost Cousin. Someone who will help you. If not, the internet is full of how-to casting videos. Then, practice. In your yard or anywhere there is an open area. Many start with a trash can at about 15-20 feet. Don't get too close. Ring the can! Ring it again. Then step off another ten feet and do it again. And again. Do it until you get better. You don't have to be perfect. No fisherman is. You just need to know how to do it. Learn to do it BEFORE you get on the boat.
If you are the spouse, the friend, the parent or the sibling of someone who goes out with you and you continue to make casts for a person that "can't cast," then you are facilitating the issue. Loan them a rod and let them practice. Teach them. Work with them.  It will make EVERYONES EXPERIENCE BETTER.

Now, I am in NO WAY saying that you shouldn't help and assist someone who needs it. NO WAY.  Young children, elderly and those physically challenged may need your help. HELP THEM! My point is there are people who just say they can't cast. And most times that really means they have not or won't take the time to learn! I think I can speak for most Captains in saying that I am always ready and actually eager to help anyone who is willing to learn! ALWAYS!!
As I stated early on, I take people of all skill levels. That is part of my job and I love it! Over the past decade I have helped and coached hundreds on casting. Many get on my boat that have never fished and become adept casters when spending the day on my boat. What follows is my point.
If you KNOW that you are going fishing, and you KNOW you are not good at casting, get a ROD and REEL PRIOR to your excursion and learn to cast. LEARN IT! Before getting on the boat. By doing this simple thing YOUR day will be better, everyone around you will have a more enjoyable day, and you will catch more fish. But better than that. In knowing how to cast, YOU can help others learn this skill. You can help a child learn a lifelong pleasure.

Sharing your new skill can be the most rewarding part of acquiring it.


Have fun and pass it on!
Cast away!!!!!
Captain Tony Mathis
904-545-0433
---